TRG Twin Gear Granulator
Working Principle
TRG twin gear granulator takes a pair of non driving meshing gears as the extrusion parts, and the working principle is positive displacement continuous extrusion. Cylindrical through-holes that are corresponding to the row number are set at the dedendums of two gears. The gear core is hollow, and the cylindrical through-holes are directly connected to the hollow part of core through dedendums. With the synchronous reverse rotation of gears, materials between two gears are filled into the tooth space evenly. At the same time, the addendum of one gear forces materials in the corresponding tooth space into the aperture of dedendum, and then the materials are extruded from the inner wall of hollow core. A scraper is set on the inner wall, and it is used to cut the strips of materials. Thus, cylindrical granules with uniform length are obtained.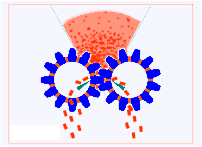 Technical Parameters
| | | |
| --- | --- | --- |
| Model | Pitch Circle Diameter (mm) | Transmission Power (kW) |
| TRG-100 | 100 | 7.5 |
| TRG-180 | 180 | 15 |
Applications
This granulator is widely applied for the granulation process of catalyst, additive, pesticide, auxiliary agent, daily chemical and other products.
Advantages and Disadvantages
1. The materials are rolled by the gears, and then extruded using positive displacement method. Thus, our machine is suitable for a wide range of materials, especially for thixotropic material.
2. The finished granule is cylindrical, and its diameter is adjustable within 2.0-8.0mm. The granulation rate can reach up to 95% or higher.
3. The granules have uniform length due to the scraper inside.
4. Water content required is a little smaller when compared with screw extruder, so the particles have higher strength.
5. The production capacity of this granulator is relatively low.
As a specialized twin gear granulator manufacturer and supplier in China, SUNUP offers a broad range of products, including compactor, die plate press / pellet mill, continuous kneader, steel belt pastillator and flaker, among others.
Sample
Related Names
Counter Gear Granulation Equipment | Mated Gear Grinding and Shredding Machine